Old postcards
My enormous fascination and love for the Grand Duchy of Luxembourg was the most important reason for me to start collecting old postcards from this country. Especially cards printed between 1896 (probably the first year with photos on postcards) until 1920 have my main interest. Those photographers didn't just take pictures of the environment but created real artistic views integrating many elements of daily life in those times. After 1920 new photographers came along and the commercial aspect started being more important. Prints weren't of the same quality anymore and the 'artistic view' disappeared completely (with exception of a few rare cards). At first I only bought postcards from 'La Petite Suisse Luxembourgeoise' which includes towns and villages such as Echternach, Berdorf, Consdorf, Beaufort, Mullertal, Grundhof, etc… because I'm addicted to this environment from when I was a little kid. As time went by I developed an enormous interest in the local history and got caught by the virus named collecting. I still make a sport out of it to locate old buildings and certain monuments (some of them do still exist in their original form), that were published on the old postcards from more than 100 years ago.
Photographer and publisher J.M. Bellwald who lived in Echternach but went all over the country for shooting pictures is one of my favourites. Thanks to his very impressive and beautiful photos, I decided to collect everything this man ever made, thus including postcards from the whole country.
From the many cards I collected at tarif postaux lettre I want to share a selection of them on this website for other people interested in this country and its history.
For a look in the past click on one of the towns or villages and find out about 'life' for over 100 years ago.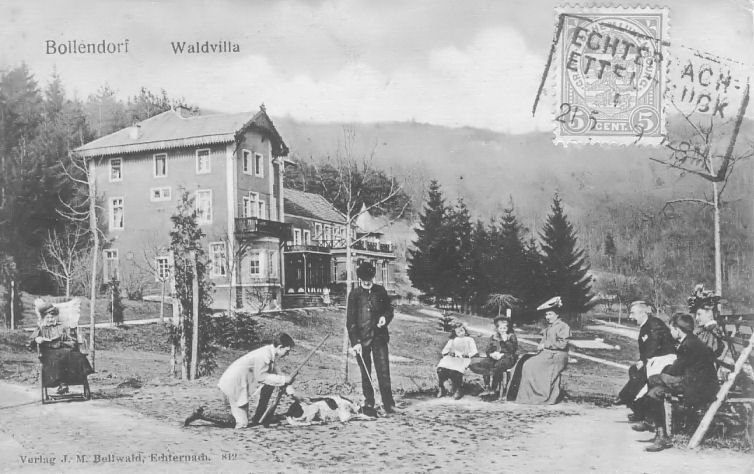 15 YEARS OF COLLECTING....
I've been collecting old postcards from the Grand Duchy for more than 15 years. With love, passion and the dream to one day complete this huge amount of beautiful prints, I treasured each card that I bought and I could feel real happiness when a missing piece found its way to my collection. When I started this website in 2001, I was encouraged by many people to continue my search for the work of the master-photographers of that time.
Thanks to this website I also met the love of my life and moved in 2003 from Belgium to Luxembourg. Actually, photographer J.M. Bellwald and his more than 100 years old postcard of Dalheim church, changed my life completely. For this reason I will always be thankful to a man I never knew for real but only through his postcards.
However, after all those years I decided to stop buying old postcards. What began as a hobby resulted finally in a heavy business with unreasonable prices which were far too high for my budget. The only cards still missing in my collection were very seldom and therefore very expensive. With every new purchase I had mixed feelings : a beautiful postcard in my possession but not worth the price paid for it anymore.
It's with pain in my heart that I took the decision to stop collecting but the fascination for the past and its beauty will always remain, as well as the continuing of this site.